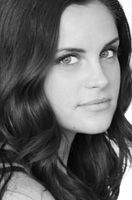 Summer
Instructor
A Southern California native, Summer has always loved healthy living and a great mind body connection. Gymnastics, competitive cheerleading, and swimming, were all very much a part of Summer's up-bringing.
Holding true to her California roots, Summer was determined to find a work out she loved, but also one that could be done barefoot. Pilates fit that need, and her life was forever changed. After training under the New York classical style, Summer continued to expand her knowledge for Pilates, learning the west coast method. Combining the two, she found her perfect workout and is thrilled to share her passion with her students!
She studied under the guidance of Master Instructor Ivon Dahl, deemed the father of west coast pilates, and is certified through the International Pilates College. Summer strives to mix a little fun during classes, while still giving a kick-butt workout, and giving her students confidence to achieve their personal goals!
Sign Up For A Class With Katie